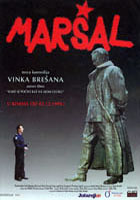 Žanr: Komedija
Režija: Vinko Brešan
Kratak opis filma: Stipan je policajac koji dolazi na malo Jadransko ostrvo na Hrvatskom primorju da bi istražio prijavljene cudne fenomene koji su zaplašili celokupno stanovništvo. Na pocetku, niko ne želi da saraduje sa njim, ali on konacno nalazi da je ostrvo navodno poseo duh Josipa Broza Tita. Za Luku, gradonacelnika, ovo je prilika da celo ostrvo pretvori u temtski zabavni park posvecen Titu. Titovi ratni veterani, sa druge strane, ne veruju u duhove; za njih, prilika je zaista Tito, koji se vratio da ih vodi u novu revoluciju koja ce obnoviti komunizam.
Producent: HRT, Inter Film, Ivan Maloca
Scenario: Vinko Brešan, Ivo Brešan
Muzika: Mate Matišic
Snimatelj: Živko Zalar
Scenografija: Mario Ivezic
Zemlja porekla: Hrvatska
Trajanje: 97 minuta
Tehnika: Standard, kolor
Prvo prikazivanje: 1.1.1999.
Description on English:For over four decades, Josip Broz Tito shaped the Yugoslav communist
state under his tight-fisted rule, as well as sowed the seeds for its
eventual bloodstained collapse. Tito first embraced Bolshevism during
the Russian Revolution of 1917, and upon returning to his native
Croatia, he became an illegal Communist Party organizer, which landed
him a six-year prison term. Despite his run-in with Yugoslav
authorities, Tito persisted and became Secretary General of the
Yugoslav Communist Party by 1937, adopting the moniker of 'Tito' as an
alias.
However, his grip on power truly tightened, with the outbreak of
hostilities of the Second World War, when he formed an all-Yugoslav
Partisan force to counter Nazi Germany and its Fascist Croatian puppet
government. As a result of the war and his reputation as a resistance
leader, Tito was able to establish a provisional Communist-led
government, whose control over Yugoslavia was cemented by support from
the Allies. Despite demands by the Serbian people to restore the
pre-war monarchy, Tito created a dictatorship, giving himself sole
discretion over the country's affairs.
In the years immediately following the end of the war, many of
Tito's policies drew harsh criticism from Joseph Stalin, and eventually
Yugoslavia was expelled from the Cominform and threatened with Soviet
invasion. At the urging of the United States, which was itself at the
beginning of a Cold War with the USSR, Tito declared independence for
Yugoslavia, laying the foundation for the Nonaligned Movement.
Rejecting the centralized structure of traditional Communist
governments, Tito pursued a number of reforms, including workers'
self-management, liberal economic reforms, and decentralization of
power.
Code:

http://rapidshare.com/files/27308449/MarsalByWHoRe.part1.rar
http://rapidshare.com/files/27322933/MarsalByWHoRe.part2.rar
http://rapidshare.com/files/27338021/MarsalByWHoRe.part3.rar
http://rapidshare.com/files/27353746/MarsalByWHoRe.part4.rar
http://rapidshare.com/files/27378183/MarsalByWHoRe.part5.rar
http://rapidshare.com/files/27388219/MarsalByWHoRe.part6.rar
http://rapidshare.com/files/27402520/MarsalByWHoRe.part7.rar

Password: whr@Yax
Admin





Broj postova

: 452


Poeni

: 588


Reputacija

: 9


Join date

: 2010-06-30


Lokacija

: G.M.




---
Permissions in this forum:
You
cannot
reply to topics in this forum